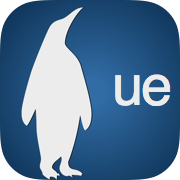 iPeng ue, the iPeng App for the Logitech UE™ Smart Radio, has now also taken the step to version number 8. This means, it adopts the iOS 7/8 user interface already familiar to iPeng for Squeezebox users as well as some new features.
iOS 7/8 Look-And-Feel
Version 1.x of iPeng ue was still based on the old iOS 6 user interface design. With version 8, the interface scheme now adopts the new UI design in line with the modern iOS versions.
And it  got quite a beautiful redesign, too.
Dark and Bright Color Scheme
By popular demand, iPeng ue now features a dark and a light color scheme – you've  got the choice. And by default, it will always select the most appropriate scheme, based on your current lighting conditions.
Redesigned iPad User Interface
iPeng ue's iPad user interface got a complete redesign. Player- and playlist-related controls have been separated out to different bars at the top and bottom of the screen, there are no "hidden" controls anymore (yet there still are convenience gestures, actually a lot of them!), and the whole screen layout got tidied up.
In landscape mode you can now pin down the current playlist to permanently show it next to the library content, and the content window can be scaled to show even more of the gorgeous views iPeng uses to present your music library and other content.
Full support of the new iPhone 6/6 Plus form factors
The new NowPlaying screen makes use of the additional space available on the new, larger phones.
And for the current playlist, iPeng ue now shows thumbnails in portrait mode. And finally, on iPhone 6 and 6Plus, there is a new landscape mode NowPlaying screen that shows the current playlist alongside the album cover in a beautiful layout.
Fully Customizable Main Menu
A lot of users have asked to be able to change their main menu structure to have other menu items on their home menu or hide things they don't need. iPeng ue now allows you to do that through a simple drag-and-drop interface.
New MultiPlayer Control
The MultiPlayer Control, used to select players and music sources and to manage synchronization, has been redesigned to structure it better and to make changes more easy and transparent.
Other New Features
Other new features include the capability to edit stored playlists, an improved sharing functionality and a direct swipe-to-delete playlist editing.
It's a Free Update
And the best news: It's a free update for existing users of iPeng ue. Unlike iPeng 8 for the Squeezebox, this is not a new App but an update of the existing one. iPeng ue has seen much fewer updates than iPeng Classic since it was initially released, and it has also always been a universal App for iPhone and iPad, so we chose to make it just an update.
The restriction that this version only works on iOS 7 and newer still applies, though – users of devices with older iOS versions (since iOS 5) can still download the old iPeng ue through the App Store.
Have fun!