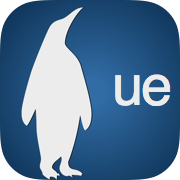 iPeng ue is the music remote for your Logitech® UE™ Smart Radio. It gives you perfect and simple control over all of your music and helps you to unleash the true potential of your Smart Radio.
Since version 8.0 iPeng ue uses the same iOS 7/8 compliant and improved user interface as iPeng 8, the Squeezebox version of iPeng.
On this page, we will give you some information about iPeng ue, the Logitech UE Smart Radio and what you can do with them.

What Is iPeng?
iPeng is the first remote control solution for iOS. Dating back as far as late  2007 (then as a Web App), and being on the App Store since 2008 (retaining a 4.5-star overall rating ever since then), iPeng is the benchmark for easy and effective music browsing and control, now available for iPhone, iPad and iPod touch.
The original iPeng, iPeng for iPad and iPeng Party Apps work with the Logitech® Squeezebox™ ecosystem and you can learn more about them here on http://penguinlovesmusic.com.
What Is a Smart Radio?
The Logitech® UE™ Smart Radio is a streaming client/internet radio made by Logitech and based on the Squeezebox technology. While it's technically similar to the latest Squeezebox Radio model, it uses a different server and software infrastructure and offers a simplified player handling. You can learn more about the Smart Radio here: http://ue.logitech.com/smart-radios
What Features Does iPeng ue Offer?
iPeng ue is similar to the other iPeng versions and offers a very similar set of features. It is more feature-rich than Logitech's own App for the UE Smart Radio and so it can add some functionality currently missing from the Smart Radio platform due to controller limitations, for example the capability to view or edit the current playlist or to add a custom radio station to your favorites by entering a URL.
iPeng cannot, however, replace functionality not supported by the Smart Radio such as the capability to store a playlist or to add 3rd party plugins.
Is iPeng ue an iPad App or an iPhone App?
It is both. Like iPeng 8 for the Squeezebox, iPeng ue is a true universal App rendering as an iPad App on iPad and as an iPhone App on iPhone and iPod touch.
Will iPeng UE Work with a Squeezebox?
No. Since they use different software and infrastructure and a different way of handling players, the Smart Radio and the Squeezebox are not compatible even though they are very similar in their technology. You will not be able to control a Squeezebox with iPeng ue or a Smart Radio with the standard iPeng. iPeng ue will not allow you to synchronize a Squeezebox to a Smart Radio.
Is Playback Available for iPeng ue?
No. iPeng ue is "only" a remote control, and we don't know whether there will ever be a player functionality for iPeng ue like there is one for iPeng. For player control, Smart Radio requires operation through Logitech's uesmartradio.com web site which we currently can't use to connect our own player.
I Do Own iPeng for the Squeezebox, Do I Have to Pay for iPeng ue Again?
Yes. Both are separate Apps for different systems and will have to be purchased separately.
Can I Get a Discount Then?
No. You generally can't give individual discounts on the App Store. Since iPeng ue does not have any In-App-Purchases right now, we also can't give any discount for theses, either.
Logitech Offers to Upgrade My Squeezebox Radio to a Smart Radio. Will This Work with iPeng ue?
Yes. iPeng ue works with the "converted" Smart Radio as well as with newly purchased ones.
Should I Upgrade My Squeezebox Radio to the Smart Radio?
Which platform is better for you  depends on how you use the devices and what you use them for. The Smart Radio will not sync to Squeezebox devices and can't use the Squeezebox software, and it also requires a permanent internet connection to operate. It also doesn't support the use of NAS boxes as a music source.
On the other hand, the player handling and selection of music sources is simplified compared to the Squeezebox, making the switch between online music and music stored on your computer easier.
Does iPeng Party Work with iPeng ue?
iPeng Party is a Squeezebox App and doesn't work with the Smart Radio. For this reason, you will not be able to use iPeng Party with iPeng ue.