Note on Version 1.1:
Changes in iPeng 1.1 are marked "1.1"
NowPlaying is the screen where you enter iPeng. And it's your control center for all player related stuff.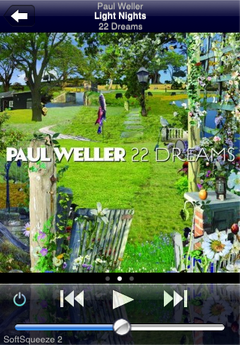 When you enter, you get a screen that should look familiar since it's modeled after the iPhone's iPod application. It also works like the iPod application with two small and one notable exception.

Let's start with the small ones: To the left of the usual Skip/Play/Pause buttons you see a Power button that is being used to turn your player on and off.

And at the bottom left you see the name of the currently active player.

So what's the big difference? It's paging. iPod has a "Flip" button on the top right in the Navigation Bar, while iPeng has a set of paging dots below the cover. These dots indicate how you get to more choices on iPeng's NowPlaying screen, it has several sub-pages between which you can swipe. Just like in Springboard. And they swipe in and out on top of the cover. This way you can always see what's playing, you've always got access to your current player but you can access all player and current playlist related features.
Pages
Today, NowPlaying has three subpages, in future it will have more. The one you see when you start iPeng is NowPlaying Main.
NowPlaying Main
Per default, that shows nothing, but you can tap it to toggle an overlay that will show elapsed time and some additional controls:

Progress Bar
The main element on the overlay is the progress bar. It does have a handle to drag it to the desired position within a song and can be used to select the position within a track. To the left, it shows the elapsed time, to the right the total time of the song. Below it is the position of the song within the current playlist.

Repeat
Off
Playl.
Song
Love
Appr.
Rew.
To the left of the progress bar is the Repeat control. For Library playback, this can take three states: Off, Repeat Playlist and Repeat Song. Like it's usual with SqueezeCenter, this control will have different functionality when used with some plugins. For example, Last.fm and Pandora will show rating icons (Love and Approve) and Alien BBC will show Rewind.
Shuffle
Off
Playl.
Disc
Ban
Disapp.
Fwd.
Shuffle is to the right of the progress bar and acts similar to Repeat. It has the three Shuffle modes Off, Shuffle Playlist and Shuffle Album. Plugin features mapped to Shuffle include Ban, Disapprove and Fast Forward.
TrackStat Rating
On the lower part of the overlay there's a control to see and set rating stars. You will need the TrackStat plugin to use this functionality, if you don't have it installed, or if it doesn't apply (e.g. for remote streams), it will not show up.

MultiPlayer Control
This is the "Left Hand" page within NowPlaying. It is your command center for players, servers and SqueezeNetwork (1.1+). You can select the current player or server here and you can simultaneously control all players connected to the current server.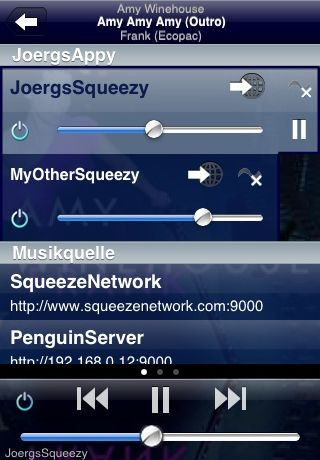 Selecting a Player
iPeng shows the list of players connected to your current server under the server name. Just tap the player you want to select. The player's name will be shown at the bottom of the NowPlaying screen and the other NowPlaying sub-pages will be updated to reflect the status of this player (cover art, playlist, etc.).
The active Player will also be shown in a lighter color.
Controlling Players
For each player, you get direct access to Volume, Play/Pause and Power.

Synchronizing Players

You Synchronize Players by clicking the Sync button on one Player (called Player 1). The player will then be highlighted and you can select a second Player (2) by tapping on it. After that, Player 2 will be the Master Player and Player 1 will start to play 2's playlist synchronized. iPeng will indicate this by showing Player 1 inset below Player 2, also Player 1 will no longer have a Play/Pause button since these actions now happen synchronized to 2.



Un-Sync: You drop a Player from a group of synchronized players by tapping the Un-Sync button.
Switching to and From SqueezeNetwork
You can select SqueezeNetwork (SN) just like your normal server. To switch players between a server and SN, there is a dedicated button.

Switch to SN: Select this button to connect a player to SqueezeNetwork.
Note: Disconnecting a player from SqueezeNetwork or a server can take up to a minute so don't be surprised when it will not immediately disappear from the old source. When you switch to the new source, you will see that the player does immediately connect to the new source.

Drop from SN: Select this button to disconnect a player from SqueezeNetwork.
Note: Your player will have to be paired with your SN account before you can switch it to SN with iPeng 1.1. This means, you can NOT switch a player to SN if it has never been connected to SN before!
Note: Your player must also have been configured for your local server before when you want to successfully want to drop it from SqueezeNetwork. iPeng 1.1 can not configure your player's server and if your player has not been connected to your server before, dropping it from SqueezeNetwork may leave it in an unconnected state!
Playlist
The "Right Hand" view on NowPlaying is the Playlist view.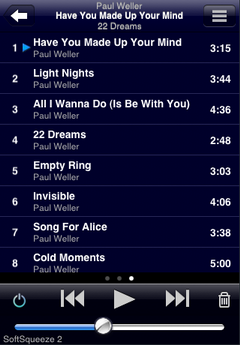 It will show the current playlist, let you scroll through it and select a track in the playlist to skip to. You can also edit the current playist.
The information in the playlist is obvious: position, song title and artists and song duration. Also, if your playlist has more than 100 tracks, iPeng will show a Dot Index to the right where each dot represents 25 tracks, so that the first one gets you to track 1, the second one to track 25 and so on. You can use that to quickly access very long playlists.
After a while of doing nothing, the playlist will automatically center on the currently playing song.
Editing the playlist

To get into edit mode, press the edit button on the top right hand side. After that, you can use the standard iPhone controls to rearrange the list and delete tracks.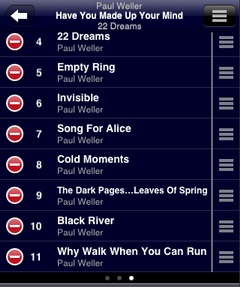 Note: The playlist will not automatically update while in edit mode, so you may miss changes that e.g. somebody else does with the Web UI. For this reason, iPeng will automatically turn off the edit mode after a while or when you leave the playlist page.
Clearing the playlist

To clear the whole playlist, just click the trash bin on the lower right of the screen. It will bring up a modal confirmation and if you confirm clear the whole playlist.