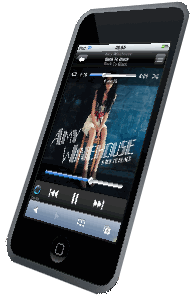 Note:
This section of penguinlovesmusic.com is NOT about the iPeng iPhone App on the App Store, it's about the older iPeng plugin (version 0.x). The plugin is free and can be installed using Squeezebox Server's Settings->Plugin feature. It will provide a web skin for Squeezebox Server's web interface that is optimized for iPhone's Safari browser and is also supported by Android's Chrome.
You'll find information on the iPeng App on the App Store here.
The iPeng plugin still works but due to the small number of users still downloading it it is less well supported.
Works with SqueezeCenter (formerly known as SlimServer) from version 7.0 on.
Penguin got family…
SqueezeCenter with iPeng is a great piece of software, but one of the greatest features is it's extendability. There are many, many plugins out there and some of them work especially well with iPeng since they are either supported by iPeng or support iPeng themselves.
Erland's Plugins
Erland Isaksson who also wrote the plugin part of iPeng has some great plugins with dedicated iPeng support:
CustomBrowse – let's you browse your library in many custom ways. Shows up in iPeng's main menu.
DynamicPlaylists – automatically generate playlists
TrackStat – rate your music and browse by rating, brings you the "rating stars" on iPeng's NowPlaying screen
You can find Erland's plugins on his plugin download page and more details on his wiki.
And more…
Two more plugins with iPeng support are Album Review and Biography by Michael Herger, they have iPeng layout and will also show up on the NowPlaying plugin page. You can find them at Michael's SlimStuff.
If you like LastFM: iPeng comes with support for that, too, but SqueezeCenter's built-in plugin will not work in every country. So if it doesn't in yours (or you prefer a bit of a different feature set), you might like to try SqueezeScrobber for that.
Coolio Icon
Now uploading icons before 1.1.4 is somewhat deprecated, but just in case you still like the icon, here it is 😉