iPeng 1.2.9/iPeng for iPad 1.0.2 are now available on the App Store and besides having some bug fixing, improving caching and changing startup behavior to better support slower servers and some smaller enhancements it brings you one cool new feature:
Party Mode / Kids Mode
The basic idea behind this feature is to allow you to block all functionality that can delete a carefully assembled playlist while still allowing you guests to influence the music choices.
By default, it will block play actions (which immediately delete the playlist) and only allow to add songs or to insert them after the currently playing track (play next).
In addition to this, it will block player management which could have similar effects (syncing two squeezeboxes will delete the playlist of one of them) and you probably also don't want your guests to change your music setup for your party. This is a configurable option.
The same goes for playlist management. In party mode, clearing the whole playlist is not supported but optionally you can also disallow deleting or rearranging single tracks.
Kids Mode
And you can exclude Menus. There's also an option to only do this (in which case you can still play and do all the other things Play Mode blocks) which I dubbed Kids Mode for myself. You can define a number of menus you don't want your guests or kids to access.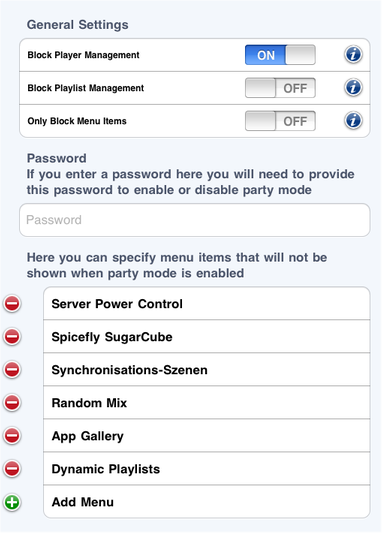 There is a number of menus predefined which are known to be able to delete the playlist (although for most of them this, again will be blocked by Party Mode) or otherwise cause trouble like SvrPower Control which shuts down your server – something you probably don't want during a party.
For all of this you can set a password. You'll have to enter it under settings and then again if you want to enable the party mode. Note: Changing the password disables party mode first, just to be sure. The password is not encrypted so from an age of nine on your kids will probably find out how to hack it but that doesn't matter because before hacking it they will find out they can clear it by uninstalling and re-installing the App anyway… Oh, wait, you can block that on iPhone, too, but they'll know your password….
What does Party Mode Block?
Things that are being blocked when Party Mode is on:
All kind of play actions. No guarantees taken but except for the limitations mentioned below I'm not aware of any ones left over. Note: 3rd party plugins might still have features that kill your playlist but are not blocked by iPeng. If you use such plugins, you need to disable them or block them using the menu exclusion feature.
deleting the current playlist, except for doing it one item by the other
saving playlists
deleting stored playlists
deleting favorites
changing shuffle and repeat states (this also blocks the "love" and "ban" buttons
re-scanning the server and changing WOL.
Limitations
Nothing's perfect. There are a few limitations, some destructive Actions iPeng can not block due to general limitations:
No guarantee for your guests taken! They can obviously still do nasty things like adding you whole collection of audio books as the next song to the current playlist. iPeng can't block evil.
iPeng has no influence on the player switching to MySB automatically (if you e.g. play an App through TinySBS). You'd have to block the Apps and Internet Radio menus to avoid this.
It doesn't work really well with Pandora. Pandora is a bit strange (I would call it "buggy") in that it actually does a destructive play action even on some add commands or while opening a context menu. iPeng can't inhibit this. Maybe it's worth a bug report to Logitech
iPeng can't block library management functions from Apps such as Napster. So whenever somebody uses a Remove from Library menu there this will actually work.
Loving/Banning through the Song Info context menu still works.
Other new features
Party mode is the big thing but there are some other changes in these iPeng versions as well:
Rescan Library from iPeng
You can now start a server scan from within iPeng. It works more or less like the control panel for the server and you can find it in the server's settings menu, below the WOL settings.
Delete Stored Playlists
You can now delete a stored playlist through it's context menu.
Enter Internet Radio URL
iPeng now allows you to enter a URL under Internet Radios for a custom radio.
You can then play this station or add it to your favorites.
No Manual Cache Flushing Needed
iPeng should now really always detect when your library changes and flush it's cache automatically. The button is still there but I believe you'll never need it anymore.
Unified Player Icons in the Player Screen on iPad
In iPeng for iPad the icons used in the Header Bar are now also being used in the MultiPlayer Screen.
As usual: Have fun with iPeng!
… And now Coolio is out for submitting just another update to the App Store which will add a nice feature for Christmas 🙂